Featured Professional Office Projects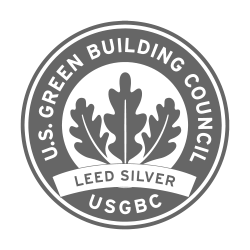 Finergy Offices
SARASOTA, FLORIDA
Downtown LEED Certified Office Suites.
Our team designed, engineered, and constructed the first ever LEED certified office building in Sarasota, Florida. Multiple interior LEED certified tenant build-outs were also executed by our team, with the modern design and energy efficient amenities attracting a constant stream of occupants, sustaining a fully-leased building.
USGBC LEED Silver Certified
BMO Harris Plaza
SARASOTA, FLORIDA
Class A Tenant Improvements.
Our team designed and constructed interior improvements and tenant build-outs in Sarasota's premiere eleven story Class A office tower, located in the heart of downtown. The project included improvements to the building's common areas as well as improved suites for New York Private Bank & Trust, Weichert Realtors, Stewart Title, Allegiant Private Advisors, and Lebcorp.
Pearl SRQ
SARASOTA, FLORIDA
Repurposed Downtown HQs.
Originally utilized for manufacturing purposes, our team executed a complete building renovation, on this three-story building in downtown Sarasota. Adapting the building to its efficient potential, it became Firmo Construction's Headquarters as well as the office space of several other tenants. The common areas have also been upgraded to include a shared kitchen, break area, and conference room.
Revcontent
SARASOTA, FLORIDA
Renovation for a Reconfiguration.
Giving careful consideration to the needs of their rapidly growing business, we transformed Revcontent's 22,000SF interior office space into a dynamic, productive layout. Including new conference areas, executive spaces, and an efficient reworking of their extensive HVAC equipment, the project was carried out through efficient scheduling, allowing the business to remain fully operational during construction.
Clickbooth
SARASOTA, FLORIDA
Design-Build a New Headquarters.
Clickbooth relocated their headquarters to a new 5,200SF shell. Implementing a design-build approach, our team produced an inspiring, effective work environment which included an open, co-work floor plan, executive meeting spaces, and a remarkable bistro space for lunch and company events.
Learn more about our collaborative services.

How We Work
Contact us today to discuss your upcoming project.

Contact